Descripción
PARADIGM OFFICIAL DEALER  ARGENTINA
Rome Wasn't Built in A Day. Neither Was Monitor.
It took three emperors and 15 years to build Rome's colosseum, architecture that still elicits awe centuries later. And while we're not so bold as to compare the colosseum to the new Series 7, you have to admit the speakers look more than a little awesome in the backdrop of Ancient Rome. Good architecture will stand up well over time, as will good sonic architecture. Our Monitor Series 7 is a classic example. Now in its seventh iteration, each new generation is an opportunity for refinement: design innovations from our higher-priced reference lineups, reference-quality component parts, cabinets and even finishes! When it comes to getting value for your money, it doesn't get better than Monitor Series 7. Since its inception, the Monitor Series has been a favorite of audiophiles on a budget — with Series 7, that hasn't changed.
We can't promise it will still be around in two thousand years, but we can promise it will play louder, plumb deeper, look smarter and sound better than any other brand in its price range.
---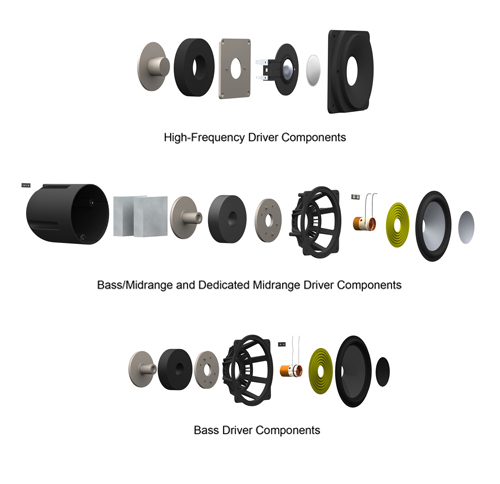 The Building Blocks: Monitor Drivers
Advanced S-Pal™ Satin-Anodized Pure-Aluminum Bass/Midrange Cones. First seen in our Paradigm Reference lineup, very high stiffness-to-mass ratio and outstanding internal damping. The result? Remarkable midrange clarity, superb extended bass response and freedom from unwanted resonances and distortions. In an affordable audio category – unbelieveable quality!
Advanced Carbon-Infused Injection-Molded Polypropylene Bass Cones. The high mineral content and injection-molding process have created a durable and rigid cone with affords us bragging rights for cone consistency and repeatability.
Advanced S-Pal™ Satin-Anodized Pure-AluminumDomes with powerful neodymium magnets and ferro-fluid cooling for increased power handling! Highs are more soaring and spacious, crystal clear and undiluted even at the higher bandwidths.
Wire Mesh Tweeter Guard and WaveGuide™. More Reference technology, ensuring a smooth, wide panorama of audiophile-quality sound. Wire mesh protection for the pure-aluminum tweeter.
Sophisticated crossovers in an affordable audiophile product! Again, it's almost unheard of: polypropylene film or bipolar electrolytic capacitors, air core and laminated core inductors, high-power resistors. Crossover topologies are first and second-order with corresponding acoustic slopes of second and third-order providing optimal bandwidth and seamless integration as drivers cross over.
Long-Travel Motor/Magnet Structures. Despite fewer drivers than in previous series', floorstanding and center channel speakers actually plumb deeper. This is, in part, attributable to the advanced motor/magnet structures: high-temperature copper or aluminum wire voice coils (varies by model) wound on Kapton formers, oversized magnets with all components FEA-optimized.
Foam-Rubber Elastomer Surrounds. Reference Studio Series geometry!
Help achieve that play loud AND play deep effect by allowing longer, expertly controlled cone travel.
---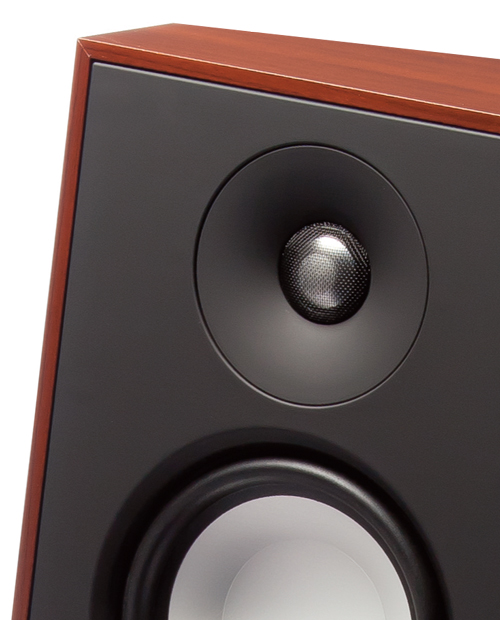 Baffled about Baffles? Don't Be!
For those of you who are wondering. A baffle is the surface on which the speakers or drivers are mounted. It prevents the front and rear sound waves from interfering with each other causing sound cancellation, as well as to absorb sound energy, particularly problematic reflected sound. So a speaker baffle is pretty darn important.
The new Monitor Series 7 baffle is a work of art – worthy of a spot in the arches of a colosseum. It boasts …
A clean aesthetic, nothing to see but the the beautiful drivers, no screws or fasteners visible
Thick and rigid ¾¿ MDF across the lineup
FEA-optimized (including a stress analysis) to overcome the limitations of the physical materials.
A modal frequency analysis allowed us to deliver the most resonance-, vibration- and coloration-free Monitor Series cabinet to date!
Critically tuned to the rest of the cabinet
Rap on the baffle … you'll hurt nothing but your knuckles!

Center 3 Specifications

Design
4-driver, 3-way center channel
Crossover
2nd-order electro-acoustic at 2.2 kHz; 2nd-order electro-acoustic at 600 Hz (bass drivers)
Frequency Response   On-Axis
±2dB from 66 Hz – 22 kHz
Frequency Response   30° Off-Axis
±2dB from 66 Hz – 18 kHz
High Frequency Driver
25-mm (1 in) S-PAL™ dome tweeter, ferro-fluid cooled and damped
Midrange Frequency Driver
115-mm (4-1/2 in) S-PAL™ cone, ferro-fluid cooled and damped, 25-mm (1 in) high-temperature voice-coil, oversize ceramic / ferrite magnets, GRIP™ chassis
Low Frequency Driver
Two 165-mm (6-1/2 in) carbon-infused polypropylene cones, 25-mm (1 in) high-temperature voice-coils, oversize ceramic / ferrite magnets, GRIP™ chassis
Low Frequency Extension
46 Hz (DIN)
Sensitivity   Room / Anechoic
93 dB / 90 dB
Impedance
Compatible with 8 ohms
Suitable Amplifier Power Range
15 – 175 watts
Maximum Input Power
120 watts
Finishes
Black Ash, Heritage Cherry
Weight
28.5 lbs. (12.9 kg)
Dimensions   HxWxD
7.875″ × 21.125″ × 11.75″
(20cm × 53.7cm × 29.8cm)