Descripción
PARADIGM OFFICIAL DEALER  ARGENTINA
Cinema™ 100:
Superior S-PAL™ Satin-Anodized Pure-Aluminum Bass/Midrange Cones with advanced motor structures and powerful ceramic / ferrite magnets. The additional mica mineral content stiffened cone composition. Sound reproduction is particularly detailed providing clear and natural sounding vocals and crisply audible movie dialog.
Superior Mineral-Filled Polypropylene Bass Cones with magnet structures tweaked for performance to deliver solid, extended bass performance.
Superior S-PAL™ Satin-Anodized Pure-Aluminum Domes with powerful neodymium magnets and ferro-fluid cooling for increased power handling! Highs are transparent with a superb sense of air and exceptional spaciousness.
Wire Mesh Tweeter Guard and WaveGuide™ technology ensure a smooth, wide panorama of audiophile-quality sound.
Reference quality crossovers in an affordable audiophile … almost unheard of!Driver integration is virtually seamless across the full range of frequencies.
Push-thru Binding Posts with Easy-Glide™ Channels.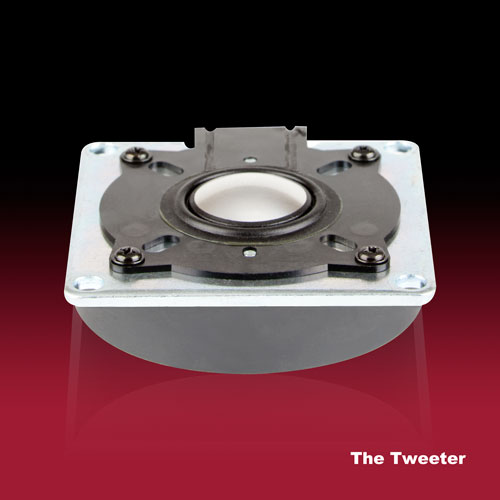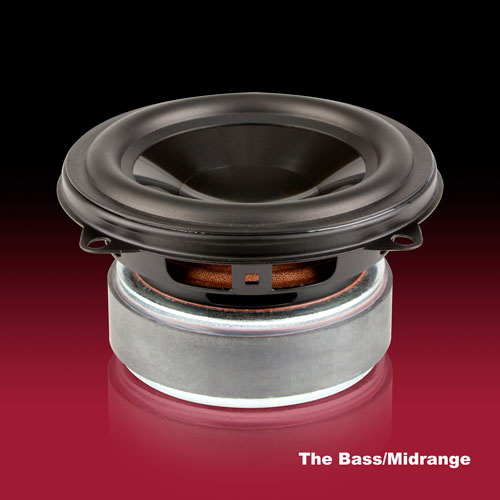 ---
Cinema™ Sub:
Superior 8¿ High-Excursion Driver made of a durable reinforced polymer composite that in concert with the superior suspension system and motor/magnet structure allow the cone to travel farther while maintaining effective control.
Built-In High-Current, Discrete Output Amplifier: 300 watts Dynamic Peak / 100 watts RMS Sustained.
Dual Ported Design for even and articulate response.
Amplifier Controls:
Auto On / Standby / Soft Clipping
Subwoofer Cut-Off Frequency
Sub / Sat Phase Switch – 0° or 180°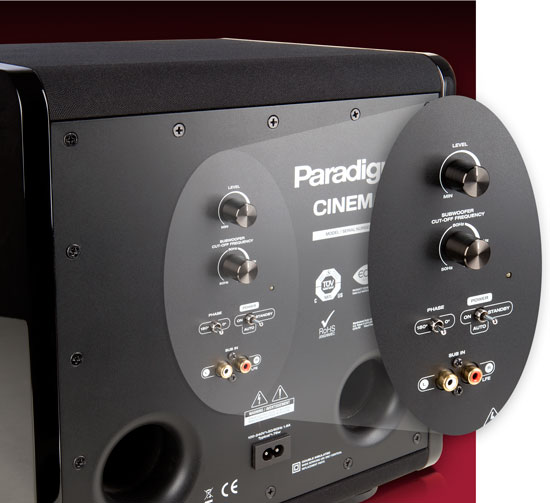 SPECIFICATIONS : 
Cinema™ 100 SPECIFICATIONS
Design
2-driver, 2-way acoustic suspension,
mineral-filled polymer enclosure
Crossover
2nd-order electro-acoustic at
1.8 kHz
High-Frequency Driver
25-mm (1 in) S-PAL™ dome tweeter,
ferro-fluid damped and cooled
Bass / Midrange Driver
102-mm (4 in) mineral-filled polypropylene cone, 25-mm (1 in) high-temperature voice
coil, advanced motor structures and
oversized ferrite magnets
Low-Frequency Extension*
85 Hz (DIN)
Frequency Response:
On-Axis
30° Off-Axis
±2 dB from 125 Hz – 20 kHz
±2 dB from 125 Hz – 15 kHz
Sensitivity – Room / Anechoic
88 dB / 85 dB
Suitable Amplifier Power Range
15 – 100 watts
Maximum Input Power†
50 watts
Impedance
Compatible with 8 ohms
Height, Width, Depth
21.2 cm x 12.2 cm x 15.7 cm
8-3/8 in x 4-13/16 in x 6-13/16 in
Weight (unpacked)
1.8 kg / 4.0 lb each
Finishes
Black Gloss
Paradigm Stand (sold sep.)
MC-30
* DIN 45 500. Indicates -3 dB in a typical listening room.
† With typical program source, provided the amplifier clips
no more than 10% of the time.
---
Cinema™ Sub SPECIFICATIONS
Design
Single driver, bass reflex,
high-velocity low-turbulence
resitive ports, built-in amplifier,
flexible positioning: gloss side up
or cloth side up with feet
Amplifier High-Current
Discrete Output
300 watts Dynamic Peak
100 watts RMS Sustained
Amplifier Features
Auto-on; standby; soft clipping
Bass Driver
210-mm (8 in) high-excursion
reinforced co-polymer
Low-Frequency Extension*
32 Hz (DIN)
Subwoofer Cut-Off Frequency
Variable 35 Hz – 150 Hz;
bypass option
Sub / Sat Phase Switch
Variable 0° or 180°
Line-Level Input
Two RCA (L/R-Mono) for L/R lineout
or Sub-Out/LFE-Out of receiver/processor
or other line-level source
Line-Level Input Impedance
10k ohms
Height, Width, Depth
(gloss side up, height is with feet)
Compatible with 8 ohms
Height, Width, Depth
34.2 cm x 32.2 cm x 32.2 cm;
13-7/16 in x 12-11/6 in x 12-11/16 in
Weight (unpacked)
9.7 kg / 21.4 lb
Finishes
Black Gloss, Black cloth